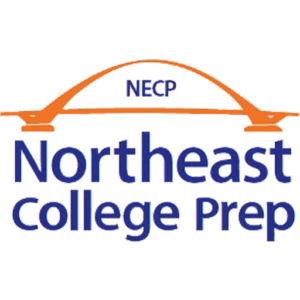 2022-2023 School Year
Enrolling Grades Kindergarten-Grade 8
NORTHEAST COLLEGE PREP
ENROLLMENT DEADLINES/PROCESS
2022-2023
INFORMATION FOR NEW FAMILIES
Northeast College Prep will hold a lottery for openings for the 2022-2023 school year on January 25, 2022.  As a result of the lottery, openings in each grade will be filled until each grade reached maximum capacity.  Siblings and children of staff have preference as per state law.
After the lottery, open spaces will be filled by lot from all applicants in the applicant pool with a completed Application Form. Once a student has accepted a space in the school, sibling preference applies for other siblings in that family.
Students admitted to Northeast College Prep will be placed in the appropriate grade based on their age and previous schooling. Northeast College Prep will not accept a student for kindergarten unless they are at least five years old by September 1, 2022 of the school year in which they start kindergarten.
STATE LAW
Northeast College Prep follows Minnesota Statues 124D.10 (Subd. 9) in its enrollment practices. The text of the law is provided below.
---
A charter school may limit admission to:
(1) pupils within an age group or grade level;
(2) pupils who are eligible to participate in the graduation incentives program under section 124D.68; or
(3) residents of a specific geographic area in which the school is located when the majority of students served by the school are members of underserved populations.
A charter school shall enroll an eligible pupil who submits a timely application, unless the number of applications exceeds the capacity of a program, class, grade level, or building. In this case, pupils must be accepted by lot. The charter school must develop and publish a lottery policy and process that it must use when accepting pupils by lot.
A charter school shall give enrollment preference to a sibling of an enrolled pupil and to a foster child of that pupil's parents and may give preference for enrolling children of the school's staff before accepting other pupils by lot.
A charter school may not limit admission to pupils on the basis of intellectual ability, measures of achievement or aptitude, or athletic ability and may not establish any criteria or requirements for admission that are inconsistent with this subdivision.
The charter school shall not distribute any services or goods of value to students, parents, or guardians as an inducement, term, or condition of enrolling a student in a charter school.
Northeast College Prep does not discriminate based on age, gender, sexual orientation, ethnicity, economic status, ability, religion or services needed. Northeast College Prep follows Minnesota Statutes 124D.10 in its enrollment practices.