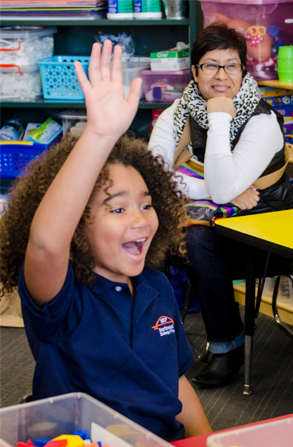 Northeast College Prep is a tuition-free public charter school. All Kindergarten – 8th grade students take Spanish, Arabic, Art, Music and Physical Education.
We are now enrolling Kindergarten – 8th grade students for 2023 – 2024.
A few recent Northeast College Prep accomplishments:
Awarded "Family Favorite" award by the MN Parent Union (2021)
Distance Learning recognition in MN "By the Numbers Report" (EdAllies, 2020)
Earned a national award called the "Seal of Excellence" from Welcoming Schools for creating a safe and welcoming school for all students and families (Human Rights Campaign, 2019)
Featured in "Schools That Work: Stories of Relevant Learning" (MN Comeback, 2019)
Recognized by the Minnesota Department of Education as a high-quality charter school (2018 and met the academic qualifications for 2021)
District 60 Recognition for creating a high quality school in NE Minneapolis from MN Senator Dziedzic (2018)
All students experience rigorous and differentiated academics, social-emotional and talent development, and the opportunity to work and play in a diverse environment.  Are you interested in learning more?  Come and visit us!
14
Primary Languages Spoken By Our Students
12:1
Student Teacher Ratio
2018
Year Recognized By The MN Department of Education As A High-Quality Charter School
STUDENT / PARENT TESTIMONIALS
I have been working at NECP since February, 2016. I worked in different areas around the school; classroom, office, compass room, outreach. I can honestly say that I have never worked in a place where I felt complete. At NECP my opinion matters, my work matters and my experience matters. Staff trusts my judgement and they are ready to help if I need anything. NECP is a family! It feels like home here. I chose NECP for my child to start in Kindergarten next year because I've seen teachers go above and beyond for students and families. From K thru 8th grade, teachers are giving it their million percent to have students be their best self and achieve the best they can. I want that for my child. I want my child to have access to the best teachers a school has to offer. I want my child to be successful! I know that at NECP he will be.  
I can't begin to tell you how much i love NECP!  A trusted friend referred me to NECP 6 years ago because of the love she had for the school.  I then made the switch and I can tell you it's one of the BEST decisions that I could have made as a parent.  I have 3 children presently enrolled and they absolutely love it.  My children oftentimes waking in the morning before me, ready and dressed for school, excited to learn and connect with their peers. NECP is more like an extension of family and community. The school offers wonderful academics and social/emotional education that is important for my family-how they will engage with one another and in the world.  They also offer second language options that enhance the skills my children had already been learning outside of school. The admin and staff are an amazing group of people that love what they do and it shows inside and outside of the classroom.  The staff is easily accessible and are ready to respond to the needs of the student as well as the family.  As a parent, it was important for me to be able to connect with the director if I had questions or concerns, as well as to have those addressed in a timely manner. Having my children enrolled at NECP has been an amazing experience. So much so, that several friends have enrolled their children as well.  I began this journey as a parent, then a volunteer, and I now am a 3rd year employee working at NECP in the classroom. Having an active role in my children's education is of paramount importance  and welcomed at NECP.  
"I love working at NECP for the amazing work the teachers and staff do. It's a very welcoming school where the administration trusts in our decisions as staff. I enrolled my son in 2nd grade during this pandemic because I saw the amazing organization and preparation the school was implementing to support our students. I have seen my son grow immensely during this pandemic and I can not wait to see how much more he can grow once we have returned in person. I look forward to the next school year working here and knowing my son is getting a great education."
"My daughter has been at NECP since Kindergarten. The school is helping her grow to be kind, smart, mindful and worldly. The school is nurturing her love of learning.  I lost two languages in my own immigration experience and NECP is helping her to gain two, which are skills that will help her throughout her entire life."
There are many things our family likes about the school.  The class sizes are small, there is good quality academics, and there is diversity of students. Also, the school times and uniforms are convenient for us since we are working parents. The teachers and staff are always friendly and welcoming.
"All the teachers are kind. The school is open to everyone and that helps me learn about other students' countries. We do a lot of fun projects. We learn Arabic and Spanish, and have art. It's also really easy to make friends here."
NECP is a excellent school.  Since my girls started at this school, I can see their academic and social growth.
"I like to read a lot, and the school always has good books for me. I also like learning different languages."
Do you believe that all students can achieve academically and socially regardless of any other factor? Do you want to work with a team of people 100% committed to doing whatever it takes to ensure all students succeed? Do you want multiple observations each week and on-going professional development so you can improve your practice? If so, apply to work at Northeast College Prep.