Quick Facts
1. Kindergarten – 8th-grade tuition-free public school open to all students
2. Uniforms
3. Free transportation and school supplies are provided to all students
4. Breakfast and lunch (free for all students regardless of income)
5. Longer school day than the local district: Monday – Friday 7:40am – 2:30pm
6. Three Pillars of our school: rigorous academics, social-emotional growth, and individual talent development
7.  Award-winning school (won local, state and national awards)
8.  Peaceful, orderly, positive school culture
9. Emphasis on learning to work with others in a diverse society
10. Positive school culture focused on teaching intrinsic motivation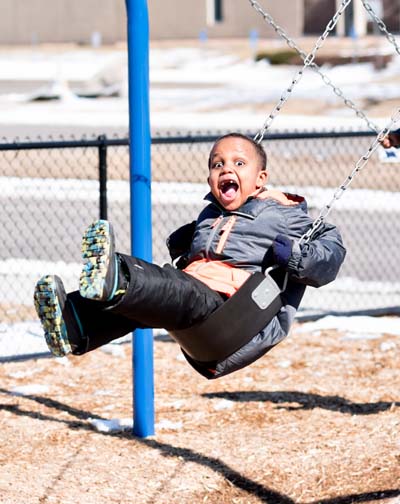 Uniforms:
NECP polo shirt (all students everyday)
Can wear any color/pattern long sleeve shirt.
Can wear navy blue, grey, or black sweatshirt over polo shirt. Please no hoods. 7th – 8th graders can wear a NECP hoodie.
Khaki, navy blue, gray or black bottoms (pants, skirts, shorts, dresses, NECP jumpers)
Must wear (or bring) tennis shoes on PE days.
Jumpers must be khaki, navy blue or black.
Tights or leggings under skirts or jumpers can be any color or pattern.
If your child wears pants under their skirt or jumper they must be khaki, black, gray or navy blue (no blue jeans).
No blue jeans or gray jeans (including tights).
*MIDDLE SCHOOL ONLY, Grades 7 & 8th*
Middle School Students also wear a NECP polo (color choices: light blue, orange or navy blue).
NECP Hoodie: Only an NECP hoodie is allowed during school hours.
All other uniform rules apply.
Students out of uniform will borrow uniform clothes, uniform sweatshirts or tennis shoes from the office.  The school will contact families who have students out of uniform.  This is the 2022-2023 visual uniform policy.
Student Transportation:
NECP partners with 4Mativ Transportation to provide our students safe and efficient transportation. Please text 763-296-2577 if you have any of the following questions, updates or concerns:
– Address Change
– Phone Number Change
– Daily Transportation Changes
– Questions about pickup or drop off
– Concerns
Healthy School Food Policy:
All students are provided with breakfast, lunch and snack, free of charge regardless of income.  If a student chooses to bring a lunch to school, it must be a complete lunch that aligns with our Wellness Policy.   "The school district encourages parents to pack healthy lunches and snacks and refrain from including beverages and foods without nutritional value."  There are two main reasons for this policy:
children are able to concentrate and learn better when they have foods with nutritional value in the bodies.

NECP receives federal funding for our lunch program (and it is against that policy) to have food available without nutritional value for our students
Additionally, any food that is brought from home can only be consumed by that student and not shared with others because of the risk of food allergies.  If students bring pop, candy, gum or chips to school they will not be allowed to eat it at school and it may be confiscated.
If a student is celebrating a birthday and they would like to celebrate with their class, they can not bring in cake or cupcakes but can bring in snacks from the healthy school food policy list or purchase items (i.e. stickers, pencils, etc.) for every student in the class.   It is completely optional to bring in items on a students' birthday.
Northeast College Prep works to accommodate all food allergies with meals and snacks and everyone is provided food and access to seconds on the share table.  Northeast College Prep spends above and beyond the federal school food program reimbursed amount to ensure that all students have enough to eat because students are able to learn better if they are not hungry.  Additionally, Northeast College Prep partners with Every Meal to provide free meals to students on the weekends.  This program is open to anyone who wants it, regardless of income level.  If you would like to donate to support Northeast College Prep's food programs, please contact Erika Sass at 612-248-8243.
Testing & Assessments:
Students at Northeast College Prep take all required state assessments.  Additionally, students take internal assessments with their classroom teacher to track progress and help inform instruction.  Northeast College Prep balances the number and type of assessments to preserve instructional time.  Click here to view the 2022-2023 Assessment Calendar.